---
About us
---
A.P.E. Research develops and produces Scanning Probe Microscopes (SPM) for surface analysis and for biological applications, and high-resolution scientific instrumentation for nanotechnologies.
The company was established in 1996 by five young researchers in the surface science field together with an expert in finance business economics. The goal was the creation of a new enterprise exploiting their experience in physics of the surfaces gathered at the research institutes in Italy and abroad.
The company started at the AREA Science Park in 1997 and since 1999 is officially recognized as a spin-off from the CNR - INFM (Italian National Institute for Condensed Matter Physics).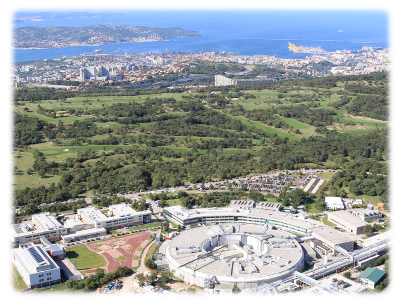 ---
A.P.E. Research is active in several specialized sectors:
Scanning Probe microscopy
The technological core business of A.P.E. Research is the Scanning Probe Microscopy (SPM).
A.P.E. Research has its own laboratory for instrumentation development and moreover the company is involved in several research projects of Italian, European and International research institutes and Universities in developing new scanning probe microscopes and innovative techniques for probe microscopy. The result of this research activity allows the company to supply always the state of the art products in a wide range of fields.
The A.P.E. Research catalog contains a standard version of Scanning Tunneling Microscopes (STM), Atomic Force Microscopes (AFM) and Near Field Optical Microscopes (SNOM). All these products can be provided with many additional tools and customized to meet the needs of the customer.
Click here for more information.
Scientific instrumentation for surface analysis and nanotechnologies
A.P.E. Research provides a wide range of scientific instrumentation for research institutes and for industry: instrumentation for surface analysis, as profilometers, different kinds of electronic devices for scientific instrumentation (I/V Preamplifier, High Voltage Amplifier, Lock-in Amplifier, Motor controller , etc...), and further custom scientific instrumentations for specific research needs.
Development of new software areas for microscopy
Implementation of image processing algorithm on visual system for real time analysis. Application include: time evolution of morphological parameters, intensity evolution of light sources, cells dynamics (vs time and space).
New biological analysis methods of investigation in biology based on use of probe microscopes
A.P.E. Research has a "BioNanoLab" in which researchers and technicians are involved in research activity in biological and biomedical field (such as cell membrane and cytoskeleton study, analysis of bacteria, or studies of other biological structures involved in various diseases - asbestosis, glomerulosclerosis, neurodegenerative disease...) performed by using SPM microscopy techniques. This research is carried out in collaboration with different University laboratories and national research institutes.
---